the start of summer break!
Hello world...well okay I haven't been blogging for a long long time now. Had exams all this while and now finally summer break! Made a trip home for a week and now I'm back to start my summer research project. yeah, so much for a summer break! First day of research and its already stressful. Its not even the actual researching as yet! Wait till I have slog myself in the lab from morning till evening aaaaa! Lets hope all goes well and I'll have time to finish it before summer break ends.
Oo oo i got a lil present from Rain who made these beautiful stitch markers for moi!! Its purple, of course. She has mastered the art of making stitch markers mind you. Take a look...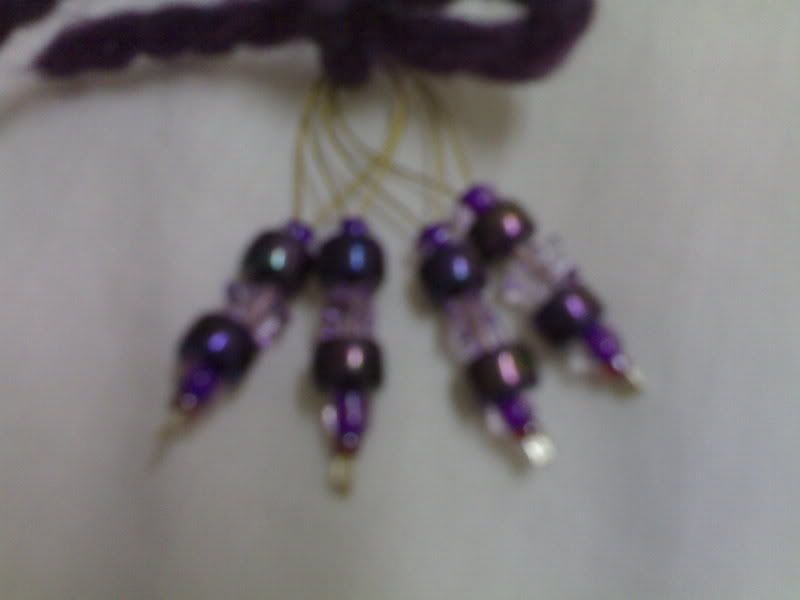 Aren't they pweetty and cute??
This was the best pic I could take with my phone camera (why is it so hard to take pics of stitch markers??)
So what knitting related stuff I've been doing?? Well....during exams I casted on Mon Petit Chou with the one ball of cascade cotton yarn that Sarah gave me. It was the exact ingredient to make the bra..I won't have enough to make the hipster. I knitted the right cup within two days with the least problem (during exams of course) and after exams I tried knitting the left cup and until today I have yet to finish them. They just won't let me finish them off! I've frogged it more than 5 times till the yarn is worn out too. Now it's just on my table staring back at me..ugh!
Conclusion? I knit better during exams :S
I just love how the pattern comes out!

Please puhleeasse lemme knit you!
Rain has also kindly lent me a book to learn how to knit socks...along with her 2.5mm dpns *woohooo*. The bra will have to wait until it stops showing its temper at me. Soooo that means I'm gonna knit my fiiirst pair of socks people! yaaay! Any advices for a beginner would be appreciated (=
I'm off to knitting socks....
Seee ya!